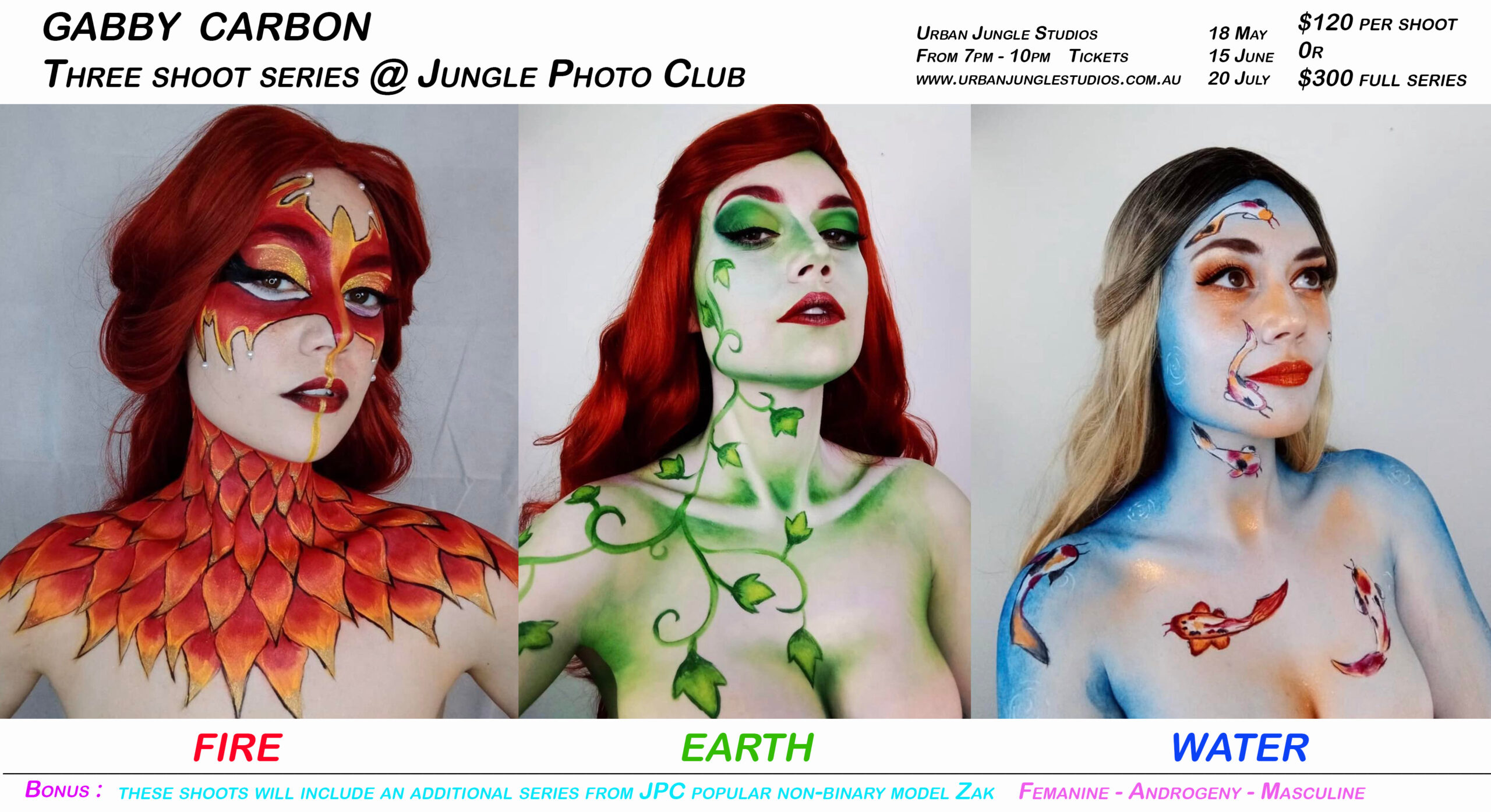 BRISBANE – Gabby Carbon – May18
SOLD OUT
get in early for the June session – ON SALE NOW
EARTH – FIRE – WATER      by Gabby Carbon
As the first major shoot event for Jungle Photo Club's brand new shoot formats, we are delighted to announce this THREE part shoot series from one of Brisbane's creative powerhouses Gabby Carbon ( Instagram.com/GabbyCarbon ).  Gabby was in Melbourne for much of the lock-down period and gathered a strong following on Facebook @ Instagram with her live body-painting series.  The looks she creates are nothing short of jaw-dropping !!
Regular JPC photographers will have shot with Gabby in some iconic creative events including the mermaid milk-bath, halloween vampire and Egyptian Sphinx (from which the talented MUA Kristie won an AIPP silver award).
Over each evening Gabby will present one of the 3 theme styles in two sections.  Firstly, a portrait style session where photographers can capture the closeup detail and skilled posing from this experienced creative model.  Secondly, we move into a round of full body posing with matching set design and a more boudoir to creative art nude style, carefully matched to the months theme.  Gabby will be utilising the time between the two shoots (when photographers will get an amazing BONUS shoot, detailed below) to be adding to the design and costuming from the portrait round.
BONUS :  We are totally shook to advise that this shoot series will also include another THREE part shoot series from JPC's popular non-binary model Zak who will shoot a FEMININE – ANDROGYNY – MASCULINE trio.  Zak has had many amazing shoots including Reptiles, Domestic Violence, PearlEx paints & Avant Garde.  We are thrilled to be able to capture this gender based series with such an amazing person.  (Zak's pronouns are Them / They)
________________________________________________________________
Tickets: $120 each session (limit 6 attendees and studio facilitator) Tickets via the Urban Jungle Studios website.
Book all THREE shoots at the same time for only $300 by using code : Gabby-60
Put all THREE shoots in the same cart and use the above code at the checkout.
_________________________________________________________________
The studio has a COVID-Safe Plan in place and complies with current directives.
ALL PARTICIPANTS WILL BE REQUIRED TO FOLLOW ANY CURRENT QLD GOVERNMENT LEGISLATION WITH RESPECT TO MASKS, SOCIAL DISTANCING AND CHECKIN APP.
A COVID-Safe and a model etiquette briefing will occur at the start of the shoot.
Sold out!